Mermaid Series
Talk

0
1,747pages on
this wiki
This page is currently under construction.
Please help us

expand

this article by editing it. Feel free to discuss this cleanup on the article's talk page.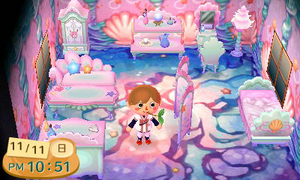 The Mermaid Series is a series of furniture in the Animal Crossing series. It first appears in Animal Crossing: New Leaf.
The series consists of classically designed furniture using marine designs. The base of each item is mostly white, with vibrant pink cushions or tops for each item. Each item also has a starfish or shell placed upon it. The matching wallpaper consists of a pink background, with purple shells and turquoise spirals resembling pillars. The matching carpet uses pale blue for a base color, with rock shapes incorporated into the design using a pink and blue colors, each outlined in a darker shade.
Natalie owns the mermaid lamp in her house.
It should be noted that the only place where the Mermaid Series furniture is sold is on the island, available to the player after three days. The cost of each item is typically 40 medals, though there are home decor items available from Nook's for bells.
Furniture Items
Mermaid Lamp - 40 Medals
Mermaid Bed - 40 Medals
Mermaid Sofa - 40 Medals
Mermaid Chair - 40 Medals
Mermaid Vanity - 40 Medals
Mermaid Shelf - 40 Medals
Mermaid Dresser - 40 Medals
Mermaid Clock - 40 Medals
Mermaid Screen - 40 Medals
Mermaid Closet - 40 Medals
Mermaid Table - 40 Medals
Note: All are raised to 48 Medals if you have the Wealthy Town ordinance in effect.
Matching Wall and Floor
Mermaid Carpet - 40 Medals
Mermaid Wall - 40 Medals
Home Modifications
In addition to the furniture sold for Medals on the island, there are home modifications available from Tom Nook in exchange for bells.
Arched Mermaid Door - 4,000 Bells
Mermaid Mail Box - 3,600 Bells
Blue Mermaid Fence - 3,500 Bells
Pink Mermaid Fence - 3,500 Bells
Mermaid Roof - 5,600 Bells
Mermaid Exterior-5,600 Bells
Gallery