Ad blocker interference detected!
Wikia is a free-to-use site that makes money from advertising. We have a modified experience for viewers using ad blockers

Wikia is not accessible if you've made further modifications. Remove the custom ad blocker rule(s) and the page will load as expected.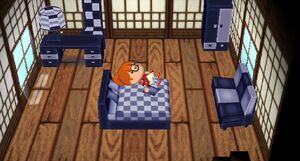 The Modern Series (ツートンシリーズ, Tsūton Shirīzu?, Two-tone) in Animal Crossing series consists of ten modular furniture items, plus matching wallpaper and flooring; in the Japanese version, it is called the monochrome, or two-tone series. Most of the items have a black and white checkered pattern or sequence. The floor is checkerboard patterned in black and gray while the wallpaper appears to be randomly sequenced in light and darker gray hexagons.
Ed, Wolfgang, Static, Freya, Groucho, Apollo, Savannah (in Animal Crossing: New Leaf) and Butch initially have some of the modern furniture in their homes.
Furniture Items
Animal Crossing
| Item Name | Buy Price | Sell Price | Available From | Group | Color | Size (sq) | Info |
| --- | --- | --- | --- | --- | --- | --- | --- |
| Modern Bed | 2,320 | 580 | Tom Nook's | C | - | 2 | Bed |
| Modern Cabinet | 2,580 | 645 | Lottery | - | - | 2 | - |
| Modern Chair | 1,500 | 375 | Tom Nook's | B | - | 1 | Chair |
| Modern Desk | 2,480 | 620 | Tom Nook's | B | - | 2 | - |
| Modern Dresser | 2,250 | 562 | Tom Nook's | A | - | 1 | Storage |
| Modern End Table | 7,600 (1,900) | 475 | Crazy Redd's | - | - | 1 | Table |
| Modern Lamp | 1,400 | 350 | Tom Nook's | B | - | 1 | Lamp |
| Modern Sofa | 2,620 | 655 | Tom Nook's | C | - | 2 | Chair |
| Modern Table | 1,800 | 450 | Tom Nook's | A | - | 2 | Table |
| Modern Wardrobe | 10,240 (2,560) | 640 | Crazy Redd's | - | - | 1 | Storage |
Wild World
| Item Name | Buy Price | Sell Price | Available From | Group | Color | Genres | Size (sq) | Info |
| --- | --- | --- | --- | --- | --- | --- | --- | --- |
| Modern Bed | 2,320 | 580 | Tom Nook's | C | Black/White | Modern/Chic | 4 | Bed |
| Modern Cabinet | 2,580 | 645 | Spotlight item | - | Black/White | Modern/Chic | 2 | - |
| Modern Chair | 1,500 | 375 | Tom Nook's | B | Black/White | Modern/Chic | 1 | Chair |
| Modern Desk | 2,480 | 620 | Tom Nook's | B | Black/White | Modern/Chic | 2 | - |
| Modern Dresser | 2,520 | 630 | Tom Nook's | A | Black/White | Modern/Chic | 1 | Storage |
| Modern End Table | 3,800 (1,900) | 475 | Crazy Redd's | - | Black/White | Modern/Chic | 1 | Table |
| Modern Lamp | 1,400 | 350 | Tom Nook's | B | Black/White | Modern/Chic | 1 | Lamp |
| Modern Sofa | 2,620 | 680 | Tom Nook's | C | Black/White | Modern/Chic | 2 | Chair |
| Modern Table | 1,800 | 450 | Tom Nook's | A | Black/White | Modern/Chic | 2 | Table |
| Modern Wardrobe | 5,120 (2,560) | 640 | Crazy Redd's | - | Black/White | Modern/Chic | 1 | Storage |
City Folk
| Item Name | Buy Price | Sell Price | Available From | Color | Genres | Size (sq) | Info |
| --- | --- | --- | --- | --- | --- | --- | --- |
| Modern Bed | 2,320 | 580 | Tom Nook's | Black/White | Trendy/Dignified | 4 | Bed |
| Modern Cabinet | 2,580 | 645 | Spotlight item | Black/White | Trendy/Dignified | 2 | - |
| Modern Chair | 1,500 | 375 | Tom Nook's | Black/White | Trendy/Dignified | 1 | Chair |
| Modern Desk | 2,480 | 620 | Tom Nook's | Black/White | Trendy/Dignified | 2 | Table |
| Modern Dresser | 2,520 | 630 | Tom Nook's | Black/White | Trendy/Dignified | 1 | Storage |
| Modern End Table | 3,800 (1,900) | 475 | Crazy Redd's | Black/White | Trendy/Dignified | 1 | Table |
| Modern Lamp | 1,400 | 350 | Tom Nook's | Black/White | Trendy/Dignified | 1 | Lamp |
| Modern Sofa | 2,620 | 680 | Tom Nook's | Black/White | Trendy/Dignified | 2 | Chair |
| Modern Table | 1,800 | 450 | Tom Nook's | Black/White | Trendy/Dignified | 2 | Table |
| Modern Wardrobe | 5,120 (2,560) | 640 | Crazy Redd's | Black/White | Trendy/Dignified | 1 | Storage |
New Leaf
| Image | Name | Buy Price | Sell Price | Available From | HHA Theme(s) | Vibe | Size (sq) | Info |
| --- | --- | --- | --- | --- | --- | --- | --- | --- |
| | Modern Bed | 2,320 | 580 | Nooklings | Trendy | Modern | 4 | Bed |
| | Modern Cabinet | 2,580 | 645 | Nooklings | Trendy | Modern | 2 | Table |
| | Modern Chair | 1,500 | 375 | Nooklings | Trendy | Modern | 1 | Chair |
| | Modern Desk | 2,480 | 620 | Nooklings | Trendy | Modern | 2 | Table |
| | Modern Dresser | 2,252 | 563 | Nooklings | Trendy | Modern | 1 | Storage |
| | Modern End Table | 1,900 | 475 | Nooklings | Trendy | Modern | 1 | Table |
| | Modern Lamp | 1,400 | 350 | Nooklings | Trendy | Modern | 1 | Lamp |
| | Modern Sofa | 2,620 | 655 | Nooklings | Trendy | Modern | 2 | Chair |
| | Modern Table | 1,800 | 450 | Nooklings | Trendy | Modern | 2 | Table |
| | Modern Wall Clock | 2,000 | 500 | Nooklings | Trendy | Modern | 1 | Wall |
| | Modern Wardrobe | 2,560 | 640 | Nooklings | Trendy | Modern | 1 | Storage |
Matching Wall and Floor
| Item Name | Buy Price | Sell Price | Available From | Group |
| --- | --- | --- | --- | --- |
| Modern Wall | 1,450 | 362 | Tom Nook's | B |
| Modern Tile | 1,540 | 385 | Tom Nook's | B |
New Leaf
| Image | Item Name | Buy Price | Sell Price | Available From | HHA Theme(s) | Vibe |
| --- | --- | --- | --- | --- | --- | --- |
| | Modern Wall | 1,452 | 363 | Nooklings | Trendy | Official |
| | Modern Tile | 1,540 | 385 | Nooklings | Trendy | Official |
Gallery
Names in other languages

Colección Moderna-Modern Collection

Série Moderne-Modern Series

Schach-Serie-Chess Series