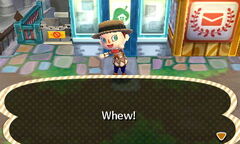 Mortgages are the amount of bells that the player owes Tom Nook for constructing and expanding their house. There are several mortgages to pay off, each larger than the previous, which are owed after Tom Nook constructs an upgrade to the house. The upgrades can either expand an existing room, or add another room to the house.
After a certain mortgage is paid off, Tom Nook will insist the player expands the house more, and sets up another expansion and mortgage for the player. This begins to be payable the very next day. In New Leaf, Tom Nook is not quite as insistent, and allows the player to choose if they would like their house to be expanded.
Mortgages can be paid off by accessing the ABD, or speaking to the teller, located in the Post Office or Town Hall. If Pelly is present when the mortgage is paid off, she will applaud the player's efforts.
After completion of all the mortgages, there are sometimes rewards for players. In Animal Crossing, the player will have their statue erected in front of the train station. In Animal Forest e+, the player receives a private island. In City Folk, a customizable flagpole is installed on the side of the player's house.
Required Amounts
Animal Crossing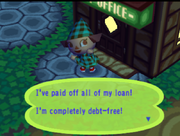 Buying House: 19,800 bells
First Expansion: 148,000 bells
Basement: 48,000 bells*
Second Expansion: 398,000 bells*
Second Floor: 798,000 bells
Total Cost: 1,411,800 bells
Wild World
Buying House: 19,800 bells
First House Expansion: 120,000 bells
Second House Expansion: 298,000 bells
Upstairs Room: 598,000 bells
Left Room: 728,000 bells
Right Room: 848,000 bells
Back Room: 948,000 bells
Total Cost: 3,559,800 bells
City Folk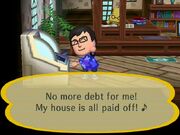 Buying House: 18,400 bells
Expansion #1: 120,000 bells
Expansion #2: 248,000 bells
Upstairs: 368,000 bells
Basement: 598,000 bells
Total Cost: 1,353,800 bells
New Leaf
Down Payment: 10,000 bells
Buying House: 39,800 bells
First Expansion: 98,000 bells
Second Expansion: 198,000 bells
Upstairs: 298,000 bells
Subtotal: 643,800 bells
These other expansions can be done in any order after the upstairs room.
Upstairs Room 6*6: 498,000 bells
Upstairs Room 8*8: 598,000 bells
Left Room 4*4: 348,000 bells
Left Room 6*6: 498,000 bells
Left Room 8*8: 598,000 bells
Right Room 4*4: 348,000 bells
Right Room 6*6: 498,000 bells
Right Room 8*8: 598,000 bells
Back Room 4*4: 348,000 bells
Back Room 6*6: 498,000 bells
Back Room 8*8: 598,000 bells
Basement 4*4: 428,000 bells
Basement 6*6: 498,000 bells
Basement 8*8: 598,000 bells
Grand Total: 7,595,800 bells