Moving
Talk

16
1,756pages on
this wiki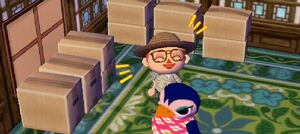 In the Animal Crossing series, animal neighbors will move out after staying in your town for awhile, though some, but rarely, will move out only a few days after you start the game. In the original Animal Forest up to Animal Crossing (Gamecube), villagers leave without warning, appearing in town one day, gone the next. Some neighbors are easier to convince to stay than others, while other neighbors can be tough to get to leave. If a neighbor asks to move away, you have the choices of saying either "Don't go!" or "Take care!/Good luck!" Different animals have different responses. If an animal has been thinking on whether to move or not for quite a few days (even a week), he or she will move away. It may take the villager anywhere from almost a day to a few days to pack and leave. Once a villager moves out, his or her house vanishes and leaves behind a patch of dirt and a signpost. A couple days after a move, a new villager will move in on top of a signpost somewhere in your town. In Animal Crossing : Wild World, the boxes are marked with a Tom Nook leaf suggesting Tom Nook moves people out as well as in. If you have a friend on your friend roster, you may get villagers from their town that has moved out. However, this means if you want to ever get a villager that your friend doesn't have, there is a very small chance you will get that villager.In Animal Crossing:New Leaf, sometimes villagers who have moved out will come to visit on Main Street, claiming they have come to visit or shop.
If the villager that moved was the only animal in town to have a certain personality then another animal of the same personality will move in- this ensures that there is a balance of characters in the game.
Villagers may move to another player's town provided there has been some form of contact between the two towns some time previously. The Player can also move out by going at the Civic Center and selecting "Moving".
When a villager is planning on moving, the best way to get them to stay is through talking to them, then writing them a letter and attaching a present.
In Animal Crossing: City Folk, sometimes you will see villagers that have lived in your town in the city, but they will not recognize you.
In Animal Crossing: New Leaf, sometimes villagers from other towns that you have streetpassed will move into your town. The villager will talk or mention its former hometown occasionally.
Moving In
Animals move in at the beginning of the game, one at a time, or until one of your other neighbors moves out. In Animal Crossing: Wild World, you start out with three neighbors, and five minimum (minimum because it is possible a villager will move out within a few days of beginning the game) will move in. Villagers will move in on top of a random signpost. If an animal is moving in, then they are under "house arrest" until they unpack. The first time you talk to them, they will introduce themselves and will be very pleased to meet you. The second time you talk to them, they will tell you to come back the following day as they are too busy unpacking. Lazy villagers may whine about needing to unpack their pillow for a place to sleep, snooty villagers complain about how their house is such a mess, cranky villagers get angry and yell at you to go away, and normal villagers will feel like they need some time to move on in. This is a somewhat difficult stage in the game.