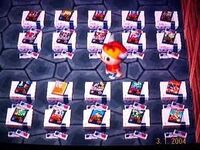 NES Games are in-game games that appear in Animal Forest, Animal Forest+, Animal Crossing, and Animal Forest e+. They are games that appeared on the Nintendo Entertainment System and can be played just as if they were the original. Some can be won at Tom Nook's lottery, while others are obtained as promotional items from a special memory card found in certain Animal Crossing games. Nintendo e-Reader cards also have a few NES games available for Animal Crossing.
Obtainable from Nook's Lottery, Redd, or are buried by villagers
Obtained from the island
Obtained from Nintendo giveaways
Mario Bros. (Animal Crossing, America-Only e- Reader card, Series 4)
Ice Climber (Animal Crossing, America-Only-e- Reader card, Series 4)
Super Mario Bros. (Animal Forest+, Japan-Only 2001-2002 Famitsu Giveaway OR Cheating Device)
The Legend of Zelda (Cheating Device)
According to the e-Reader cards for Mario Bros. and Ice Climber, Tom Nook gave these away for free as a "loyalty gift" for customers of his various stores.
E-cards
e-Card

Letter

Back

#N01 Ice Climber

| | |
| --- | --- |
| Gender | N/A |
| Type | N/A |
| Star sign | N/A |
| Clothes | N/A |
| Petphrase | N/A |
| Password | N/A |
| Profile | Some people will do anything to get you into their tents, or stores. Well I can tell you I will not stoop so low. I did however find this classic NES game on a storeroom shelf. Would you like it? Let's just call it a "loyalty gift" shall we? |
e-Card

Letter

Back

#N02 Mario Bros.

| | |
| --- | --- |
| Gender | N/A |
| Type | N/A |
| Star sign | N/A |
| Clothes | N/A |
| Petphrase | N/A |
| Password | N/A |
| Profile | Ho ho... I just made a deal on a one-of-a-kind classic NES game. Although I don't think that giving stuff away for free is a good business practice, I do hope it will buy your loyalty. |
Gallery
Trivia
The original Japanese release of Animal Forest+ for GameCube lacks Soccer and Excitebike, and instead features the early Famicom versions of Gomoku Narabe and Mahjong.

In addition, the various Famicom games (Save for the Famicom Disk System) are given a color code as well:

Orange: Clu-Clu Land
Grey: Balloon Fight
Red: Donkey Kong
Blue: Donkey Kong Jr. Math
Yellow: Pinball
Purple: Tennis
Light Blue: Golf

Depending on the version of the game, some NES games are obtained through different means.
Clu Clu Land D, Soccer, Donkey Kong 3, Donkey Kong Jr. and Punch-Out!! were initially unavailable in-game, however Nintendo of America and Nintendo of Europe later released codes that could be used in the game to unlock them, though Punch-Out!! was deciphered by fans.
Super Mario Bros. and The Legend of Zelda cannot be played through normal means, although Super Mario Bros. was given away between 2001 and 2002 by Famitsu for Animal Forest+.
Some NES games were re-released in Classic NES Series for GBA.
There is a fake NES game in Animal Forest e+ and Animal Crossing, obtainable from Tortimer on April Fool's Day called Super Tortimer.
When playing Animal Crossing using a setup that supports the game's progressive scan display mode, the mode must be activated in order for NES games to be playable.
In New Leaf, the New Nintendo 3DS and Wii U furniture items received from fortune cookies may be a nod to these NES games, as they are playable Nintendo consoles.