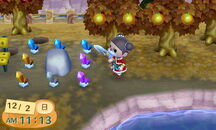 Ores are a new addition to Animal Crossing: New Leaf. They can be found most often in the single breakable Rock (fake rock) that spawns in the town each day, but occasionally they can be found buried in the ground. Using a Silver Shovel on the Money Rock will sometimes produce gems instead of Bells.
They can be sold or used in custom furniture at Re-Tail. In addition, for 10,000 Bells and three Gold Nuggets, Cyrus can make a random piece from the Golden series.
Island Minigames
An Island Tour involves collecting as many ores as possible in a certain amount of time, with each ore except the specified being worth 1 point. Each time a single ore is chosen to be worth three points. In some there is a secret ten point ore.
Customizing Furniture
By giving a furniture piece to Cyrus combined with a crystal you can receive custom furniture that reflects the ore you give him. When you give Cyrus one piece of customizable furniture that is compatible with ore (with them in your inventory) he will ask if you want normal color options or if you want it to be customized using the ore.
Two rules of thumb can be seen here:
Compatibility with Silver ensures compatibility with Gold.
Compatibility with Amethyst ensures compatibility with all ore types.
List of Ore
| Name | Sale price |
| --- | --- |
| Amethyst | 2,000 |
| Ruby | 2,000 |
| Sapphire | 2,000 |
| Emerald | 2,000 |
| Silver Nugget | 3,000 |
| Golden Nugget | 4,000 |
Gallery