Pascal
Talk

1
1,655pages on
this wiki
"If you try something new, it's not new anymore, maaan."
— Pascal, Animal Crossing: City Folk
Pascal (ラコスケ, Rakosuke) is a special character that appears first in Animal Crossing: Wild World and later in Animal Crossing: City Folk. He is a red sea otter, with a yellow muzzle, black nose, and wide black eyes; he wears a beige beanie hat and dungaree overalls, and has a scallop hanging around his neck. His name is a reference to a French philosopher, Blaise Pascal; it may also be a reference to the measurement Pascal, also named after the philosopher, which is used to measure pressure underwater. He appears in the Player's town once a week from 6 AM to 12 AM and is easily noticed by the villagers. Pascal's Japanese name is Rakosuke. He is extremely intelligent and has a wide knowledge of many things.
Pascal is known for his philosophical tendencies, making him well known amongst the villagers in the player's town. Most of his philosophy is marine-themed.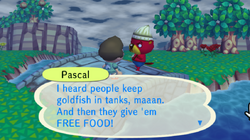 "The more you learn, man, the less you know."
— Pascal, Animal Crossing: Wild World
In Wild World, he appears during random weekdays by the river mouth from 6 AM to 12 AM, where the player can listen to one of his diffuse and sometimes random thoughts. If a player decides to, Pascal will give them a piece of ship-themed furniture before performing a perfect dive into the sea and swimming off.
Pascal is a key member in the Wild World Golden axe trading event. In exchange for a scallop, which is obtained from Tortimer for a massage chair, Pascal will give you a Golden Axe or a photo of himself.
His picture quote is "The more you learn, man, the less you know.", and he is one of seven special characters in Wild World who gives their picture out, the others being Tom Nook, K.K. Slider, Pelly, Phyllis, and Katie and Kaitlin.
Sometimes cranky villagers will claim that when Pascal was little he got hit in the head with a soccer ball, and from then on he started saying random philosophy. It is not known if this rumor is true.
"I used to be into rap music, maaaan, but it's hard to freestyle underwater."
— Pascal, City Folk
In City Folk, Pascal stands on one of the town's bridges on random weekdays from 6 AM to 12 AM. Though Booker will not tell you when he is in your town, the villagers will usually know. If you speak to him, he'll tell you something very odd. Sometimes, one or two of the words will be green, indicating that it's not just meaningless and has some relevance in the game. After sharing some philosophy, he does a back and a half into the river, floating down towards the sea, scaring off any fish along the way. It is unknown exactly where he goes. If the player gives him a scallop, he gives them a piece of ship-themed furniture.
In the Animal Crossing movie, Pascal gives Tortimer some of his philosophy. He was voiced by Takashi Miike.