Pete (ぺりお,, Pelio?) is a pelican who delivers mail in the Animal Crossing series.
In all the games, once you win his trust, he will tell the player of his romances with Pelly and Phyllis, the clerks at the Town Hall (WW, CF) and Post Office (AC, NL). He appears in the town at 9:00 AM and 5:00 PM to deliver the mail.
Appearance
Pete looks similar to Pelly, with white feathers. He wears a green jacket with a navy blue mail pouch and a green hat with a red badge in the middle and white and orange stripes.
Role
In Animal Crossing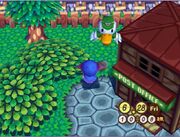 In Animal Crossing, he takes the mail after the player has given Pelly or Phyllis five letters at the Post Office. He flies down towards the player's house at 5 PM to deliver mail and lands by the bulletin board. He will walk to each mailbox and place mail inside of each one, unless disturbed by the player, whom he will talk to. Once the mail has been delivered, he will take off and fly away within two acres.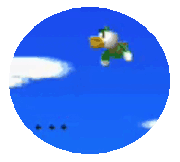 Pete continues to be the mail carrier in Animal Crossing: Wild World, but with a slightly different role. In the game, he cannot be seen delivering the mail, but can be seen flying above the town where he can be shot down with a slingshot between 9 AM and 5 PM, and he would not be aware who shot him down. He can be found near the player, laying face down. He will proceed to get up once talked to. Once he is shot, the player will not be able to move until he falls on the ground.
In Animal Crossing: City Folk, Pete appears walking around town at 5 PM to deliver the mail, at the same time as he did in Animal Crossing. He also appears when Nintendo sends mail to a player. However, he randomly appears in the town, rather than flies in. He will only talk once to the player when spoken to. Afterward, he only says that he has to get to work.
It is clear that Pete does not have feelings for Pelly in Animal Crossing: City Folk, but seems to be interested in her sister, Phyllis. When talking to him, he blushes while mentioning that Phyllis' perfume smells "exotic", and giggles when he mentions that she said "goodnight" to him.
When he is in town, some villagers will start rumors about him and other villagers, some even suggesting they are in a relationship with him. If you listen to some of their conversations, snooty and cranky villagers will say how they have changed the name plates on other snooty and cranky villagers' homes to "Phyllis' House," usually involving this with other arguments, like giving other villagers' fleas for revenge. Booker will not know when Pete is in town because Pete flies into town, rather than going through the Town Gate.
Pete makes a reappearance in Animal Crossing: New Leaf, and the only physical change to him is that he is taller. He appears from Monday through to Friday, and can be seen wandering around your town from 9:00 to 9:30 AM and 5:00 to 5:30 PM.
He also appears when special DLC is delivered and meets you when you exit your house.
Pete plays a minor role in Dōbutsu no Mori. He makes an appearance when Margie sends Ai a letter about her fulfilling her dreams. He also makes a more muted, background appearance during the Fireworks show, eating pink cotton candy.
Relationship with Phyllis
A common factor in all Animal Crossing games is that Pete openly expresses his feelings for Phyllis. Pete will tell the player that Phyllis' perfume is "exotic", and blushes when he says that she said good night to him. Once the player earns his trust, Pete will constantly talk about Pelly and Phyllis on a regular basis.
Phyllis, in comparison, is shown to dislike Pete. In the Roost, she often comments about the "fool" that often follows her here, a clear reference to Pete.
In Animal Crossing, he is aware of rumors regarding him and Pelly, though he is not fond of them and dismisses them, suggesting Pelly is "too young". His love for Phyllis is often talked about among the villagers.
Similarly to Animal Crossing, Pete says that "I'm interested in a mature lady who can take care of herself".
In City Folk, snooty and cranky villagers discuss putting "Phyllis" as the nameplate on someone's house for the victim to be inundated with "creepy love letters". Pete discusses other rumors spread by other villagers saying that Phyllis is frosty and aloof, and has a "personality like sandpaper".
In New Leaf, Pete talks about similar things from City Folk. In the Cafe, he is curious when Phyllis comes and would like to hang out with her.
Gallery
Trivia