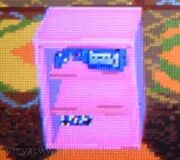 Pink Furniture is a small furniture set, noted for including a few high HRA-scoring items. The pink and red furniture set are often considered to both go nicely in Lovely-themed rooms, excluding white furniture which is better off alongside the Regal Series. Villagers might ask for this furniture in games where they ask for specific things, of which New Leaf is not included. Pink furniture is usually collected by the females with the peppy personality, but can be given if a particular animal is looking for any piece of furniture.
Ad blocker interference detected!
Wikia is a free-to-use site that makes money from advertising. We have a modified experience for viewers using ad blockers

Wikia is not accessible if you've made further modifications. Remove the custom ad blocker rule(s) and the page will load as expected.