This article requires clean-up to meet the quality standards of the Animal Crossing Wiki.
Please edit this page to improve it. Feel free to discuss this cleanup on the article's talk page.
Raja Brooke butterfly
アカエリアゲハ Akaeriageha

| | | | | | | |
| --- | --- | --- | --- | --- | --- | --- |
| AF | AF+ | AC | e+ | WW | CF | NL |
| – | – | – | – | – | #8 | #8 |

Location
Price
Near Freshwater
2,500 Bells
Size
Available in rain
140 mm
No
Time of year
Time of day
May to September
8am to 5pm (May)
8am to 7pm (June)
8am to 5pm (July)
8am to ?? (Sept)
Scientific name
Trogonoptera brookiana
Family
Papilionidae - Butterflies
Appearances
CF, NL
Rarity
Scarce (★★★★)
Regional names
Brookiana
Rajah Brooke
Mariposa alas Brooke


Farfalla Raja Brooke
"I caught a Raja Brooke butterfly! It's worth about as much as royalty!" —Animal Crossing: New Leaf
The Raja Brooke butterfly (アカエリアゲハ,, Akaeriageha?) is a rare bug that was introduced in City Folk. and is found near fresh water. It is the only butterfly to be attracted to water, but another bug, the Firefly, shares this trait.
Donating to the museum
In City Folk
Upon donating to the museum, Blathers the curator will say;
"...I must say, I'm quite impressed with your ability to catch such an impressive butterfly... The Raja Brooke butterfly, I must tell you, is one of the larger tiger butterflies. Naturally, its antennae and proboscis also rank as some of the largest around. Be not proud, vile beast! Your cute red collar and fancy name do not fool Blathers!"
It can be found in the bottom-left enclosure in the bug exhibit, flying around the pond.
In New Leaf
In New Leaf an information board in the bug exhibit will list information about this bug.
"Raja Brooke butterflies have red heads and a red strip around their necks, giving the look of a collar. They are known to drink hot-spring water and often hang around water flowing up from the ground. While males are vibrantly green, females are much more commonly seen with brown wings."
Capture quotes
"I caught a Raja Brooke butterfly! What a cute red collar!" —Animal Crossing: City Folk
Encyclopedia information
Once the player has caught a particular fish or bug, they can find information about it in the bug or fish menus. Once the Raja Brooke butterfly has been caught, the following information can be found in the bug menu:
City Folk
Bug

Encyclopedia Information

200px

"Flashing black wings with bright green markings make it easy to identify."

Size
About 140mm
Time
Unknown
Season
Summer
New Leaf
Gallery
Further information
This birdwing butterfly shares a close relation with the better known swallowtails, as noted by Blathers in-game, and with the Parnassius genus they form the family Papillionidae. The Rajah Brooke has distinctive black and electric-green markings, which are more prominent in the males, while the females have white markings. Both have a crimson head and collar. It was named and described by Alfred R. Wallace in 1855, after James of Sarawak (the Rajah of Sarawark). It is also called the Rajah Brooke butterfly, and spelling it as "Raja" is often considered as a mistake though both are acceptable.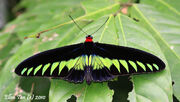 They can be found in the rainforests of Borneo and the Malaysian Peninsula, and is featured as the national butterfly of Malaysia. It is registered as an endangered species under conservation protection.