Ad blocker interference detected!
Wikia is a free-to-use site that makes money from advertising. We have a modified experience for viewers using ad blockers

Wikia is not accessible if you've made further modifications. Remove the custom ad blocker rule(s) and the page will load as expected.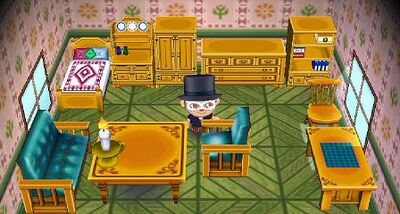 The Ranch Series in Animal Crossing consists of ten furniture items, plus matching wallpaper and flooring. The furniture is light cedar designed with fancy carvings on some of the items, such as the Ranch Table. The cushions of the couch and armchair include light cyan, and the bed includes light magenta, cream white, and light cyan on the sheets and pillows. The metal knobs and hinges appear to be a graphite color.
In Animal Crossing: City Folk, the furniture has given a makeover, now offering orange wood instead of light brown.
Furniture Items
Animal Crossing
| Item Name | Buy Price | Sell Price | Available From | Group | Color | Size (sq) | Info |
| --- | --- | --- | --- | --- | --- | --- | --- |
| Ranch Armchair | 2,000 | 500 | Tom Nook's | A | Green | 1 | Chair |
| Ranch Bed | 2,300 | 575 | Tom Nook's | C | Red | 2 | Bed |
| Ranch Bookcase | 2,000 | 500 | Tom Nook's | C | - | 1 | - |
| Ranch Chair | 5,600 (1,400) | 350 | Crazy Redd's | - | - | 1 | Chair |
| Ranch Couch | 2,400 | 600 | Tom Nook's | C | Green | 2 | Chair |
| Ranch Dresser | 10,880 (2,720) | 680 | Crazy Redd's | - | - | 2 | Storage |
| Ranch Hutch | 2,560 | 640 | Lottery | - | - | 1 | - |
| Ranch Table | 1,700 | 425 | Tom Nook's | B | - | 4 | Table |
| Ranch Tea Table | 1,800 | 450 | Tom Nook's | B | - | 2 | Table |
| Ranch Wardrobe | 3,050 | 762 | Tom Nook's | A | - | 1 | Storage |
Wild World
| Item Name | Buy Price | Sell Price | Available From | Group | Color | Genres | Size (sq) | Info |
| --- | --- | --- | --- | --- | --- | --- | --- | --- |
| Ranch Armchair | 2,000 | 500 | Tom Nook's | A | Green/Brown | Old School/Chic | 1 | Chair |
| Ranch Bed | 2,300 | 575 | Tom Nook's | C | White/Brown | Old School/Chic | 2 | Bed |
| Ranch Bookcase | 2,000 | 500 | Tom Nook's | C | Brown (x2) | Old School/Chic | 1 | - |
| Ranch Chair | 2,800 (1,400) | 350 | Tom Nook's | - | Brown (x2) | Old School/Chic | 1 | Chair |
| Ranch Couch | 2,400 | 600 | Tom Nook's | C | Green/Brown | Old School/Chic | 2 | Chair |
| Ranch Dresser | 5,440 (2,720) | 680 | Crazy Redd's | - | Brown (x2) | Old School/Chic | 2 | Storage |
| Ranch Hutch | 2,560 | 640 | Spotlight item | - | Brown (x2) | Old School/Chic | 1 | - |
| Ranch Table | 1,700 | 425 | Tom Nook's | B | Brown (x2) | Old School/Chic | 4 | Table |
| Ranch Tea Table | 1,800 | 450 | Tom Nook's | B | Green/Brown | Old School/Chic | 2 | Table |
| Ranch Wardrobe | 3,050 | 762 | Tom Nook's | A | Brown (x2) | Old School/Chic | 1 | Storage |
City Folk
| Item Name | Buy Price | Sell Price | Available From | Color | Genres | Size (sq) | Info |
| --- | --- | --- | --- | --- | --- | --- | --- |
| Ranch Armchair | 2,000 | 500 | Tom Nook's | Green/Brown | Retro/Dignified | 1 | Chair |
| Ranch Bed | 2,300 | 575 | Tom Nook's | Brown/White | Retro/Dignified | 2 | Bed |
| Ranch Bookcase | 2,000 | 500 | Tom Nook's | Brown (x2) | Retro/Dignified | 1 | - |
| Ranch Chair | 2,800 (1,400) | 350 | Crazy Redd's | Brown (x2) | Retro/Dignified | 1 | Chair |
| Ranch Couch | 2,400 | 600 | Tom Nook's | Green/Brown | Retro/Dignified | 2 | Chair |
| Ranch Dresser | 5,440 (2,720) | 680 | Crazy Redd's | Brown (x2) | Retro/Dignified | 2 | Storage |
| Ranch Hutch | 2,560 | 640 | Spotlight item | Brown (x2) | Retro/Dignified | 1 | - |
| Ranch Table | 1,700 | 425 | Tom Nook's | Brown (x2) | Retro/Dignified | 4 | Table |
| Ranch Tea Table | 1,800 | 450 | Tom Nook's | Green/Brown | Retro/Dignified | 2 | Table |
| Ranch Wardrobe | 3,050 | 762 | Tom Nook's | Brown (x2) | Retro/Dignified | 1 | Storage |
Matching Wall and Floor
| Item Name | Buy Price | Sell Price | Available From | Group |
| --- | --- | --- | --- | --- |
| Ranch Wall | 1,450 | 363 | Tom Nook | A |
| Ranch Flooring | 1,750 | 438 | Tom Nook | A |
Gallery
Merchandise