| | |
| --- | --- |
| | The title of this article is conjectural. An official name for the article's subject has not been found, so it has been given a fitting title by editors. If there is an official name, it is requested that Rarity be moved to the correct name. |
Rarity is a figurative term describing the occurrence rates of bugs and fish. The five main rarity levels used on this website are Common (★), Fairly Common (★★), Uncommon (★★★), Scarce (★★★★) and Rare (★★★★★). An additional rating, Limited Per Day (-) is used for the Bee which has a set number of appearances per day.
Common
Common (★) fish and bugs are easy to come by in the correct season or conditions and will often be found in high numbers. Most have a sell price of less than 300 Bells.
Fairly Common
Fairly common (★★) fish and bugs are slightly harder to find than common ones, but are still relatively easy to find. Most fairly common fish and bugs sells for less than 1,000 Bells and are still not particularly lucrative.
Uncommon
Uncommon (★★★) fish and bugs are not very rare but may be difficult to find even when lots of effort is put into finding them. Many uncommon fish and bugs sell for more than 1,000 Bells, but many bugs of this rarity sell for much lower. Bugs such as Mole Crickets are considered uncommon in most games, but only sell in the 200 range.
Scarce
Scarce (★★★★) fish and bugs are very uncommon and often require greater than an hour of dedicated searching. These creatures often sell for several thousands of bells and are limited to a few months of the year. Many scarce fish and bugs are solely nocturnal.
Rare
Rare (★★★★★) fish and bugs include the most valuable items in the entire game. Rare (or very rare) bugs and fish are exceedingly uncommon and may take many hours of hunting. Bugs such as Tarantulas and Golden Stag beetles sell for 8,000 and 12,000 Bells respectively, while Coelacanths and Dorado sell for the maximum of 15,000 Bells.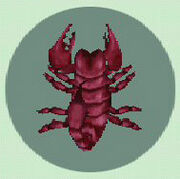 Limited Per Day
The Limited Per Day (-) tag is a specific rarity tag for the Bee. These bugs have a 100% chance of spawning providing enough trees are available, but only a maximum of 5 can be found per day until the next day.
See also