Red King Crab
Talk

0
1,759pages on
this wiki
"I got a red king crab! Nice to meet you, Your Highness!" —New Leaf
Red King Crab
Time of Year
November to March
Time of Day
All Day
Location
Bottom of the Ocean
Shadow
Large Seafloor (Fast moving)
Rarity
Rare
Selling Price
6,000 Bells
Appearance
Animal Crossing: New Leaf
Regional Names
(タラバガニ Tarabagani)

Granchio gigante

The Red King Crab is a Benthic animal found at the bottom of the sea. It is indicated by a circular shadow. Diving is the only way of capturing it.
Donation to the Museum
In New Leaf
"These are one of the most popular and sought-after species of crab in the world. They have eight legs, including their claws, but also two small legs under their carapace, making 10 in all. At full size, their leg span can easily reach more than one yard wide, making them big ocean dwellers. Their thick legs are packed with meat, making them a prized catch for many fishers around the world."
Gallery
Encylopedia Information
New Leaf
Further information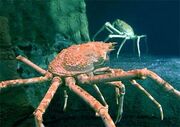 The Red King Crab is native to the Bering Sea. It grows to a leg span of 5.9 ft (1.8 m) and is the most coveted of king crab in the commertial food industry.