Robin
Talk

0
1,655pages on
this wiki
"Always keep your wings manicured so you can fly away!"
— Robin, Animal Crossing: Wild World
Robin (パーチク, Pachiku) is a snooty bird villager in the Animal Crossing series. Her name comes from the type of bird she is, a robin. Her catchphrase, la-di-da, comes from a verbal interpretation of singing, an activity birds perfom on a regular basis.
Appearance
Edit
Robin, like her name, is a robin, with a red jawline, a tuft of light blue hair and a white abdomen. Robin has a big yellow beak, and her initial shirt is the Kiwi shirt. Robin also has navy blue over her eyes. She is somewhat similar in appearance to another bird, Jay. The tips of her wings fade from dark blue, to light blue, to white. She wears no makeup and can be mistaken for a Normal or Peppy villager.
Personality
Edit
Below is a brief description of the snooty personality. For more information, click here.
As a snooty villager, Robin will first appear rude and arrogant towards the
player
, often talking about herself and her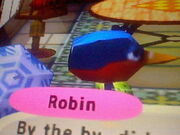 own experiences. She will sometimes talk about her boyfriend. She may also talk about the style and appearance of other villagers, usually other female villagers such as
normal
,
peppy
, and other snooty villagers. She will soon warm up to the player, confiding in them about their own feelings, but still keeping subtly rude. She will enjoy the usual
hobbies
, usually for reasons reflecting on beauty products or things written in
Ms. Nintendique
. She will find it hard to get along with other villagers, specifically
lazy
and
jock
villagers who have conflicting lifestyles with her own. She may get on with
cranky
villagers, who also enjoy gossiping about the appearance and lifestyles of others.
Her house is a living room theme, made of mostly brown things; she is also noted to have more birdcages than any other villager, having three in the
Animal Crossing
and two initially in
Animal Crossing: Wild World
and
Animal Crossing: City Folk
. Robin has
K.K. Bossa playing on a Turntable
. Robin usually has rare or big fish in her room.