Robo Series
Talk

0
1,754pages on
this wiki
This is the article about the furniture set. For the villager type, see Robot.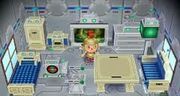 The Robo Series in Animal Crossing consists of ten furniture items, plus matching wall and flooring. In Animal Crossing, it was a set of two items. Cube collects this series. In Animal Crossing: New Leaf, the Robo-Wall clock was added to the series.
In New Leaf, it's possible to recolor items in this series to red, black, blue, and silver by bringing them to Cyrus for customization.
Furniture Items
Animal Crossing: Wild World
| Item Name | Buy Price | Sell Price | Available From | Group | Color | Genres | Size (sq) |
| --- | --- | --- | --- | --- | --- | --- | --- |
| Robo-Bed | 2,000 | 500 | Tom Nook's | C | Blue/Gray | Modern/Lovely | 2 |
| Robo-Chair | 1,600 | 400 | Tom Nook's | A | Gray (x2) | Modern/Lovely | 1 |
| Robo-Clock | 1,400 | 350 | Tom Nook's | C | Gray/Black | Modern/Lovely | 1 |
| Robo-Closet | 4,800 (2,400) | 600 | Crazy Redd's | - | Gray (x2) | Modern/Lovely | 1 |
| Robo-Dresser | 2,560 | 640 | Tom Nook's | B | Gray (x2) | Modern/Lovely | 2 |
| Robo-Lamp | 3,600 (1,800) | 450 | Crazy Redd's | - | Green/Gray | Modern/Lovely | 1 |
| Robo-Stereo | 2,200 | 550 | Spotlight item | - | Blue/Gray | Modern/Lovely | 1 |
| Robo-Sofa | 2,000 | 500 | Tom Nook's | B | Blue/Gray | Modern/Lovely | 2 |
| Robo-Table | 2,200 | 550 | Tom Nook's | A | Gray (x2) | Modern/Lovely | 4 |
| Robo-TV | 2,360 | 590 | Tom Nook's | B | Gray (x2) | Modern/Lovely | 2 |
Animal Crossing: City Folk
| Item Name | Buy Price | Sell Price | Available From | Color | Genres | Size (sq) |
| --- | --- | --- | --- | --- | --- | --- |
| Robo-Bed | 4,000(2,000) | 1000 | Crazy Redd's | Blue/Gray | Trendy/Playful | 2 |
| Robo-Chair | 1,600 | 400 | Tom Nook's | Gray (x2) | Trendy/Playful | 1 |
| Robo-Clock | 1,400 | 350 | Tom Nook's | Gray (x2) | Trendy/Playful | 1 |
| Robo-Closet | 4,800 (2,400) | 600 | Crazy Redd's | Gray (x2) | Trendy/Playful | 1 |
| Robo-Dresser | 2,560 | 640 | Tom Nook's | Gray (x2) | Trendy/Playful | 2 |
| Robo-Lamp | 3,600 (1,800) | 450 | Crazy Redd's | Green/Gray | Trendy/Playful | 1 |
| Robo-Stereo | 2,200 | 550 | Spotlight item | Blue/Gray | Trendy/Playful | 1 |
| Robo-Sofa | 2,000 | 500 | Tom Nook's | Blue/Gray | Trendy/Playful | 2 |
| Robo-Table | 2,200 | 550 | Tom Nook's | Gray (x2) | Trendy/Playful | 4 |
| Robo-TV | 2,360 | 590 | Tom Nook's | Gray (x2) | Trendy/Playful | 2 |
| Robo-Heater | 1,700 | 425 | Tom Nook's | Gray (x2) | Trendy/Playful | 1 |
Matching Wall and Floor