Snowman
Talk

8
1,748pages on
this wiki
Redirected from Snowmen
| | | |
| --- | --- | --- |
| | Warning: This page contains information that may be recognized as in-game cheats or spoilers. | |
"Man, this freezing little town is just the pits... If only I'd been rolled up in some tropical paradise instead..."
— Snowman, Animal Crossing: City Folk
A Snowman (ゆきだるま) is a man made of snow, as the name indicates. They can be built during the winter time (December 11th to February 25th). 2-3 snowballs appear randomly everyday throughout the town. The player can use these to make a snowman. The snowballs are usually in different locations, and they have to be the right size. A good strategy is to make the body the size of the player and the head about the size of up to the players head. In Animal Crossing: New Leaf there are other snowmen and snow-women to create.
Appearance
Snowmen come in different sizes and shapes of their heads and body, depending on how the player built them. They consist of two snowballs stacked together. They have dotty eyes and red triangle noses. They have five dots which forms the mouth, that doesn't move even when speaking.
In Animal Crossing: Wild World and beyond, their mouths has six dots instead of five.
In Animal Crossing: New Leaf, there are now four variants of snowmen. The first one has thick eyebrows and wears a black top hat and its mouth is replaced with a mustache. The second one is a "snowwoman," who has an extra snowball on the back of its head, resembling a hair bun. Its nose is a a tall rectangle and its mouth is replaced with a lipstick decal. The third one has an oval circle for a nose. The fourth one is the same snowman from the previous series.
Construction
Snowballs gain size when being pushed through the snow and slightly decrease in size when going over dirt or pavement. Initially, snowballs are controlled similar to sport balls, being kicked around. Once they get to a certain size they become more controllable, being pushed around instead. Two snowballs appear a day, so you can only make one snowman each day. However, if a snowball falls off a cliff ledge, rams into a hillside, slams into a house, gets hit by a shovel, falls into a hole, or dropped into the river, the ocean or pond, it will be lost. Under this circumstance, a new snowball will be randomly generated when you enter and leave a building so that you may try again later.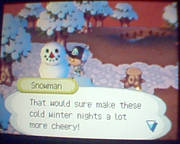 When the snowballs look to be the right size, push the smaller one on top of the larger one by pushing them near each other. The snowman will tell you if you did a perfect job, a good job, an average job, a poor job or a terrible job. The snowman's personality is determined by how it is made, for example, if you do a poor job it will often say bad things about their life like, "I just want to make one light shine before I melt away, oh woe is me." If you do a good job then it will say "I'll never be the best- looking guy on the block, but I can still lead a long and fulfilling life" However, if you did a perfect job it might say, "I'll be looking fine when I represent (town name) in the (year) Mr. Snowman Snowslam!" or "Though my body is cool, my soul is on fire. Yeah, that's me, all right! I've got to write that down somewhere."
You will also receive a snowman themed item from the Snowman series in the mail after the snowman melts away. The snowman will remain a few days and will shrink each day until he disappears. The snowman also asks you to build him a snow-lady. It does not affect whether you receive the furniture or not because it is impossible.
The snowman always knows what pieces you have and will never send you duplicates until you have every single piece in the series.
In
Animal Crossing: City Folk
, if a snowman is built anywhere on the pavement in front of the
Town Gate
, even out of the bus' path, the
player
will not be able to go to the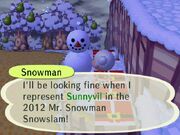 city
because the bus will not be able to stop, citing snowstorms. If the player builds a snowman right next to an obstacle such as another snowman, a
house
, or a
tree
it may have moved when you next see it or possibly even disappear.
Role
New Leaf
In New Leaf there is a whole snowman family to build, each with their own size range. If you fail to make one of the family members you will just create a regular snowman. Papa Snowman will give you a card which cannot be dropped or deleted until January. Each day you will recieve a tick on it.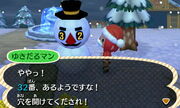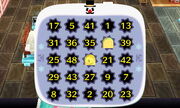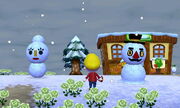 Trivia