Stitches
Talk

2
1,757pages on
this wiki
"I love green peppers not...stuffin'."
— Stitches, Animal Crossing: Wild World
"Sometimes the sum is greater than its parts! Get it? A huh huh huh!"
— Picture quote, Animal Crossing: Wild World
Stitches (パッチ, Patch) is a lazy cub villager in the Animal Crossing series. He is based off of a young child's worn stuffed animal, indicated by his name and the many patches of fabric making up his body, this also gives the reason for the kiddie furniture in his home. His phrase is based on the stuffing used in dolls and teddy bears.
Appearance
Stitches resembles a teddy bear with a purple line on his forehead with the rest of the color is orange on his head. His two ears have different colors, one is green and the inside is orange, one is blue with green inside. His muzzle has a cream color and his mouth is brown. He has two x's on his eyes, making him resemble a teddy bear. His arms and legs also have different colors, his arms are blue and green, and his legs are green and orange along with his stomach being orange with a cream-like inside it. Stitches wears a Star Shirt, a shirt that strongly resembles his appearance with blue, red, and green. He is seen as technically not an animal, along with Sprocket, Lucky, Ribbot, Coco, Nindori, Cube, Blanca, Peaches, Lyman, Tia and Merengue. Stitches' picture quote, "A stitch in time saves nine!" could be referencing the fact that he has nine siblings, which can be found out if you reveal the real Stitches on April Fool's Day.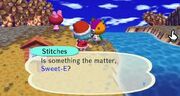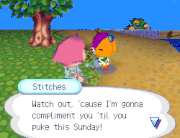 Personality
Below is a brief description of the lazy personality. For more information, click here.
As a lazy
villager
, Stitches will have a laid back lifestyle involving food and
relaxing. Like all
lazy villagers
, he is a kind and calm person. He will enjoy the
usual
hobbies
such as
fishing
,
catching bugs
, and fashion, to name a few. He will appear friendly and hospitable towards the
player
, appearing to be like a elder brother in behavior - nice and friendly. If you send him a letter he often will be very happy and excited to receive a message from you. He will get on well with other villagers; particularly
normal
,
peppy
, and other lazy villagers. Sometimes peppy villagers speak to one another of how cute they find him. He may indirectly offend
snooty
and
cranky
villagers, who worry about their physical appearance.
Cranky
villagers will admire his laid-back lifestyle. Stitches will sometimes mention that this is his first time living away from home just like your character. Stitches will also act sometimes like a normal villager, which they are around the same age as him.
House
His house has a kiddie theme and has lot of toys, such as a train set and an elephant slide from the nursery theme. He also has a hammock, a green lamp, and furniture from the playroom theme. He has the Playroom Wall and Playroom Carpet. K.K. Lullaby plays on the Kiddie Stereo in his house.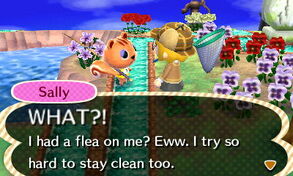 Gallery