A
TV
, or television, is an item of furniture obtainable in the
Animal Crossing series
. Like in real life, TVs broadcast an assortment of programs when turned on, such as game shows, cartoons, or plays. TVs also feature
weather
forecasts that tell the player the weather of the following day. In 
Animal Crossing
, TVs play one show that can be viewed only on a certain TV. Interestingly, most TVs in the
Animal Crossing
series series appear to be based on CRT monitors (which were standard among households from the late 1940's to the late 2000's), with only a select few based on HD LED monitors (which have been standard among households since the late 2000's).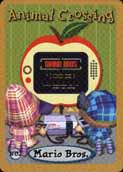 Televisions
Programming
Wild World & City Folk
Programs come on at certain times of day, although in Animal Crossing, TVs show the same program depending on which type of TV it is. The following programs can be found on TV throughout the day in all games but Animal Crossing:
News
The newswoman tells about some sort of speech in one report and some sort of fire, inter-spliced with a field interview of a man, as K.K. D&B play in the background. In Happy Home Designer, the fire disaster was changed to some sort of nighttime fairground display for unknown reasons.
Weather
The Weatherman tells explains about the weather while acoustic versions of K.K. Love Song, Café K.K. and K.K. Swing play in the background. This program will also display what the weather will be like tomorrow, making it useful for planning out activities that depend on the weather (such as catching certain kinds of bugs and fish).
Soap Opera
What seems to be a young man and a woman talk at some sort of house, likely confessing their love with each other. It's likely the show Sable watches, and she calls it Pointed Love. The music from The Roost in Wild World & City Folk can be heard.
Nature
The view switches from various landscapes, while the sound of nature and a narrating voice can heard.
Cartoon
A superhero, likely styled after a power ranger, is seen running at the front and posing while Go K.K. Rider can be heard playing.
Comedy
A man and a woman are showing at a stage, with the woman telling jokes while the man seems to be annoyed with it. A varied instrumentation of K.K. Ragtime is played.
Quiz
Four contestants are challenged to answer questions. The man who gives the answer gets it wrong, while the girl gets the question right.
Ball Game
There is soccer match going on, with two teams being pitted against each other.
Music
What seems to be either a live concert or a music video shows a girl with a band singing to a rendition of K.K. Jazz.
Movie
A person with a gun attempts to make their way through the building. Afterwards, they notice someone and tries to shoot them as the building bursts into flames.
Test Pattern
A test card is shown, while a long beeping noise can be heard. The test card resembles the SMPTE Color Bars in the Japanese and North American version, while the Philips PM5544 test pattern is used in the European version.
Static
All is shown is static, as the daily run for the television broadcast is over.
Introduced in New Leaf
Commercials

There are six new commercials introduced in New Leaf. One of them is for a drink as the startup theme from Animal Crossing (specifically the one played when booting up a copy of the game without any town data present) is played in the background. Three other commercials are slightly modified versions of the programs that would perpetually play on the Retro TV, the Apple TV, and the Snowman TV (respectively labelled "girl", "apples", and "snow" in the schedule below) in Animal Crossing series.

Aerobics
A calisthenics program based on Rajiou Taiso plays to the tune of the Morning Aerobics theme from Animal Crossing. Like Rajiou Taiso, this program only airs in the early morning.
Cooking
Talk Show
As the music from inside the Happy Room Academy Headquarters from City Folk plays at the beginning, there's a woman talking to a man, likely expressing their feelings.
Cat & Mouse
A cat and a mouse chase each other around in a pastiche of the Tom and Jerry animated short films while K.K. Country plays in the background.
UFO
A strange alien transmission that appears from 3:33 AM to 3:34 AM on Sunday and Monday. It seems to be delivering a message of some sort.
Schedule
In Wild World and City Folk
Monday
Tuesday
Wednesday
Thursday
Friday
Saturday
Sunday
6am
News
News
News
News
News
News
News
6:45
Weather
Weather
Weather
Weather
Weather
Weather
Weather
7:00
News
News
News
News
News
News
Toon
7:45
Weather
Weather
Weather
Weather
Weather
Weather
8:00
Soap
Soap
Soap
Soap
Soap
Talk
Nature
8:30
Nature
Nature
Nature
Nature
Nature
9:00
Nature
Quiz
10:00
Toon
Toon
Toon
Toon
Toon
Toon
Talk
11:00
News
News
News
News
News
News
News
11:45
Weather
Weather
Weather
Weather
Weather
Weather
Weather
12pm
Talk
Talk
Talk
Talk
Talk
Talk
Toon
1:00
Soap
Soap
Soap
Soap
Soap
Ball Game
1:30
Talk
Talk
2:00
Talk
Nature
3:00
Nature
Nature
Nature
Nature
Weather
Ball Game
Quiz
4:00
Toon
Toon
Toon
Toon
Toon
Nature
5:00
Talk
Talk
Talk
Talk
Talk
Talk
Talk
6:00
News
News
News
News
News
News
News
6:45
Weather
Weather
Weather
Weather
Weather
Weather
Weather
7:00
Talk
Ball Game
Toon
Talk
Ball Game
Quiz
Ball Game
8:00
Quiz
Music
Nature
Talk
9:00
Soap
Soap
Soap
Soap
Soap
Movie
Movie
10:00
News
News
News
News
News
10:45
Weather
Weather
Weather
Weather
Weather
Weather
Weather
11:00
Talk
Nature
Quiz
Talk
Quiz
News
News
11:45
Weather
Weather
12am
Nature
Talk
Music
Test
Test
1:00
Movie
Music
Ball Game
Nature
Movie
Static
Static
2:00
3:00
Test
Test
Test
Test
Test
4:00
Static
Static
Static
Static
Static
5:00
Test
Test
Test
Test
Test
Test
Test
In New Leaf
Monday
Tuesday
Wednesday
Thursday
Friday
Saturday
Sunday
6am
News
News
News
News
News
News
News
6:15
Weather
Weather
Weather
Weather
Weather
Weather
Weather
6:30
Aerobics
Aerobics
Aerobics
Aerobics
Aerobics
Aerobics
Aerobics
6:59 CM
Detergant
Gym
Soft Drink
Gym
Detergant
Soft Drink
Detergant
7:00
News
News
News
News
News
News
Toon
7:29 CM
Snow
7:30
Toon
7:59 CM
Gym
Gym
Gym
Gym
Gym
Gym
Apples
8:00
Soap
Soap
Soap
Soap
Soap
Soap
Cat & Mouse
8:19 CM
Gym
Gym
Gym
Gym
Gym
Gym
8:20
Nature
Nature
Nature
Nature
Nature
Nature
8:29 CM
Girl
8:30
Cat & Mouse
8:59 CM
Apples
9:00
Quiz
9:18 CM
Detergant
Detergant
Detergant
Detergant
Detergant
Detergant
9:19 CM
Gym
Gym
Gym
Gym
Gym
Gym
9:20
Nature
Nature
Nature
Nature
Nature
Nature
9:29 CM
Detergant
9:30
Quiz
9:59 CM
Gym
Gym
Gym
Gym
Gym
Gym
Soft Drink
10:00
Toon
Toon
Toon
Toon
Toon
Toon
Talk
11:00
News
News
News
News
News
News
News
11:45
Weather
Weather
Weather
Weather
Weather
Weather
Weather
12pm
Talk
Talk
Talk
Talk
Talk
Talk
Toon
1:00
Soap
Soap
Soap
Soap
Soap
Ball Game
1:30
Talk
Talk
2:00
Talk
Nature
3:00
Nature
Nature
Nature
Nature
Nature
Ball Game
Quiz
4:00
Toon
Toon
Toon
Toon
Toon
Nature
5:00
Talk
Talk
Talk
Talk
Talk
Talk
Talk
6:00
News
News
News
News
News
News
News
6:45
Weather
Weather
Weather
Weather
Weather
Weather
Weather
7:00
Talk
Ball Game
Toon
Talk
Ball Game
Quiz
Ball Game
8:00
Quiz
Music
Nature
Talk
9:00
Soap
Soap
Soap
Soap
Soap
Movie
Movie
10:00
News
News
News
News
News
10:45
Weather
Weather
Weather
Weather
Weather
Weather
Weather
11:00
Talk
Nature
Quiz
Talk
Quiz
News
News
11:45
Weather
Weather
12am
Nature
Test
Music
Test
Test
12:57
Gym
Gym
Gym
Gym
Gym
1:00
Movie
Music
Ball Game
Nature
Movie
Static
Static
2:00
2:45 CM
Gym
Gym
Gym
Gym
Gym
3:00
Test
Test
Test
Test
Test
3:33
UFO
UFO
3:34
Static
Static
4:00
Static
Static
Static
Static
Static
5:00
Test
Test
Test
Test
Test
Test
Test
5:55 CM
Girl
Apples
Snow
Girl
Apples
Snow
Commercials
Commercials
Retro TV Commercial
Snowman TV Commercial
Apple TV Commercial
Gallery