Tiger butterfly
アゲハチョウ Agehachou

| | | | | | | |
| --- | --- | --- | --- | --- | --- | --- |
| AF | AF+ | AC | e+ | WW | CF | NL |
| #3 | #3 | #3 | #3 | #3 | #3 | #3 |

Location
Price
Near red flowers
200 Bells (GCN)
160 Bells (Wild World, City Folk, New Leaf)
Size
Available in rain
90 mm
Unknown
Time of year
Time of day
April to September (GCN)
March to September (WW, CF, NL)
4am to 7pm (March to June- City Folk)
8am to 5pm (GCN, Wild World, July to August- City Folk)
8am to 4pm (September- City Folk)
Scientific name
Papilio machaon
Family
Papilionidae- Swallowtail Butterflies
Appearances
AF, AF+, AC, AFe+, WW, CF, NL, PC
Rarity
Uncommon (★★★)
Regional names
Machaon
Schwalbenschwanz
Mariposa tigre
Farfalla tigre
"I caught a tiger butterfly! Looks like I pounced first!" —New Leaf
The tiger butterfly (アゲハチョウ, Agehachou?) is a common butterfly that can generally be seen during the Spring and Summer months. Contrary to its typical flower-loving brethren in Animal Crossing, in Animal Forest+ and Animal Forest e+ it was only found flying in open spaces away from places, however in Wild World and City Folk it was found near red flowers. In the GCN games they are fast and hard to catch, but in Wild World and beyond, they move slowly, and therefore can be caught more easily. Prior to Wild World, it was called the tiger swallowtail butterfly.
Donating to the museum
As with all fish and bugs in Animal Crossing series, the Tiger Butterfly can be donated to the Museum by talking to Blathers, who will also tell the player a little bit about the donation. Regarding the Tiger Butterfly:
In Animal Crossing
Blathers response upon accepting butterflies for the museum in Animal Crossing is the same for all species:
"There's an old saying among some of my contemporaries: "Butterflies are beautiful, yet moths are monstrous." Well, if you were to ask me, I'd say they were all the same! By which I mean disgusting! Truly hoo-rrific, wot wot!"
In Wild World
Blathers will accept Tiger Butterflies for donation to the bug room of the museum, but this doesn't necessarily mean that he likes them:
"Tiger butterflies are named due to their distinctive tiger-like markings... I must say, I'd almost rather encounter a real tiger than one of these. Real tigers are nowhere near as... wretched."
The Tiger Butterfly can be found hovering around the flowers in the first room of the bug exhibit after donation.
In City Folk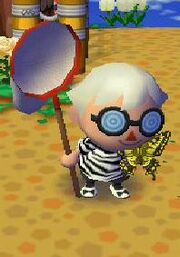 After donation at the museum in City Folk, Blathers the curator will talk about the Tiger Butterfly:
"Aside from the South Pole, one can find Tiger Butterflies just about anywhere on earth. Imagine these monstrous bugs flapping about the whole globe... The very thought robs me of sleep!"
The Tiger Butterfly can be found fluttering around the flowers on the lower tier of the bug room after donation.
In New Leaf
After donating a Tiger Butterfly, the museum sign reads:
"The larvae of tiger butterflies feed on leaves of orange trees until they metamorphose. When they're threatened, they emit a foul smell from their antennae to protect themselves. The dusting you see on your fingers whenever you touch their wings is actually from their scales. These scales form the wing pattern as well as repel rainwater, making them very important for survival."
Capture quotes
"I caught a tiger swallowtail butterfly! Those wings are beautiful!" —Animal Crossing
"アゲハチョウを つかまえた! ちょうちよの アイドル!" —Animal Forest
"I caught a tiger butterfly! The star of the butterflies!" —Wild World
"I caught a tiger butterfly! Here, kitty, kitty!" —City Folk
Encyclopedia information
Wild World
| | |
| --- | --- |
| Bug | Encyclopedia Information |
| | "In the larval stage, they love to eat oranges. After maturation they seek out red flowers." |
| Size | 90 mm |
| Time | Midday |
| Season | Spring |
| Icon | |
City Folk
Bug

Encyclopedia Information

"Wherever there are orange trees, these butterflies are likely to be found."

Size
About 90 mm
Time
Noon
Season
Spring
New Leaf
Bug

Encyclopedia Information

"I caught a tiger butterfly! Looks like I pounced first!"

Size
114 mm
Time
Morning-Evening
Season
Spring-Summer
Gallery