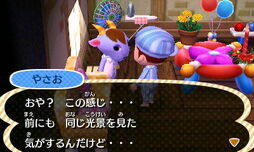 I'm deciding to change my avatar to something more suitable for the wiki. I'm stuck at deciding what icon to go with. Can anyone please vote below for 3 New Leaf Villagers each so I can tally it up and see who I should be. Either female or male will do. Votes will end on my birthday, 28th June, so please, help a guy out. My votes are: Hazel (New Leaf), Kidd and Rocky.
Overall standings
1st = Kidd - 5 Votes
1st = Eugene - 5 Votes
3rd = Hazel (New Leaf) - 1 Vote
3rd = Julian - 1 Vote
Ad blocker interference detected!
Wikia is a free-to-use site that makes money from advertising. We have a modified experience for viewers using ad blockers

Wikia is not accessible if you've made further modifications. Remove the custom ad blocker rule(s) and the page will load as expected.