I finally got down to writing this blog. At this time I want to tell you about my town in Animal Crossing called Town Bun. All residents can be counted on the fingers of one hand: Grizzly , Mallary, Whitney, Stitches, Merry, Mott, Margie, Lucy, and one peppy duck, which I don't like.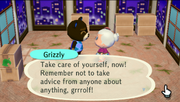 And I do remember that instead of Stitches was Elmer and instead Whitney was Olivia... And Grizzly also going to leave the Town Bun... Katrina predicted that a new resident to Scorpio. For some reason I believe it will be Gaston , but I'm not sure about this...
Next time, I'll probably tell you about my house.