So, as many of you know, the Welcome amiibo Update is here. With the new update, you can get MANY more items, that before. Also, you can scan the new amiibo cards to get the villager you want from that card. But, there's this set of amiibo cards that are really hard to get, and those are the Sanrio amiibo cards. This set has exclusive furniture that you can not obtain from the Catalog, the Nookling stores or in the Campground.

That's why I'm here, to gift you this furniture. Just tell me what collection you want and I'll gift it to you! Catch me in the chat when you can and ask me for one of the collections down below here!

NOTE: Even though I can gift you the furniture of the collections down below, I CAN'T gift you the clothes, sorry!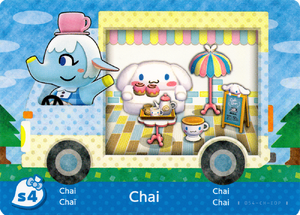 My personal favorite, here's the furniture I can gift:
Cinnamoroll sign
Cinnamoroll sofa
Cinnamoroll stool
Cinnamoroll parasol
Cinnamoroll table
Cinnamoroll tray
Cinnamoroll wall
Cinnamoroll floor