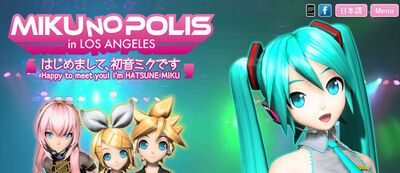 Yes, the rumors are true! Miku and the gang are coming to Los Angeles! I wish I could go...
The concert will be at the L.A. Anime Expo on July 2, 2011. They're calling it Mikunopolis!
If anyone plans on going, please tell me all about it! I wanna know all the details!
Locked in gradual phase-out of Miku blogs.
Ad blocker interference detected!
Wikia is a free-to-use site that makes money from advertising. We have a modified experience for viewers using ad blockers

Wikia is not accessible if you've made further modifications. Remove the custom ad blocker rule(s) and the page will load as expected.