Comments

0
Join the Super Smash Bros. 4 ranking list!
How do I join?
Simple! Put your FC* in the comments and add me! My FC is 3797-8141-0159.I don't rank SSB4 for Wii U (yet!), only SSB4 for 3DS. I can play on the weekends from 1:00 p.m.  EST to 10:00 a.m EST. Once you have been ranked you can join the tourney battles! If you want to see the current tourney planned go here.
Hope we can fight soon!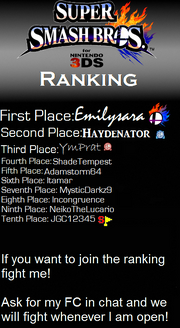 Since it's summer I can play from 1:00 p.m-3:00 a.m. EST