Hey hey, I have been a little busy. So I missed some pics from my game. Soo, today I have some pics.
1st Time at Shampoodle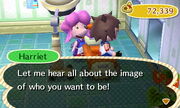 I'm glad to change my hair, cause it was a really mess!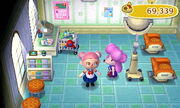 And here I'm. I liked my new pink hair. Thanks Harriet! <3
Have I ever mentioned that I love pandas?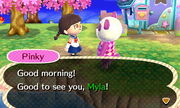 Pinky is one of Dotville villager's and I won a photo from her on April's Fool.
Soo, that's all for today. Hope see you soon~!
Mayor Myla <3
Ad blocker interference detected!
Wikia is a free-to-use site that makes money from advertising. We have a modified experience for viewers using ad blockers

Wikia is not accessible if you've made further modifications. Remove the custom ad blocker rule(s) and the page will load as expected.