first blog entry
nobody's gonna read my blog, so im writing one :D
rosie almost left today, but i sent her a present and kept talking to her until she said "maybe i should change my mind" now shes here!:)
im waiting for kk slider to come to the roost at 8 oclock. im gonna request stale cupcakes and kk lullaby on my wii. on my ds im going to request stale cupcakes and marine song 2001.
i LOVE that song so much. well, bye:)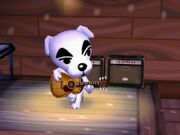 Ad blocker interference detected!
Wikia is a free-to-use site that makes money from advertising. We have a modified experience for viewers using ad blockers

Wikia is not accessible if you've made further modifications. Remove the custom ad blocker rule(s) and the page will load as expected.