This article is about villager from the Animal Crossing series. For the flower, please see Flower.
Violet
ウズメ Uzume

"Pearls are a pink gorilla's best friend."
Birthday
September 1st (Virgo)
Initial phrase
faboom(CF)
sweetie(NL)
Initial clothes
Red Aloha Shirt (AFe+)
Misty Tee (CF)(NL)
Home request
A homey little restaurant
Skill
Blowing bubbles
Goal
Pharmacist
Coffee
Mocha,
Lots of milk,
Three spoonfuls of sugar
Style
Historical
Favorite song
K.K. Faire
Appearances
AFe+, CF, NL, HHD
Regional names
Gaëlle
Magenta
Konga
"Ahh...don't you just love shopping, <player>? Even if you don't buy anything, it's fun to look!"
— Violet, New Leaf
Violet
(

ウズメ,

Uzume
?
) is a
snooty
gorilla
villager
in the
Animal Crossing series
. Her name comes from her fur color. Her old catchphrase, faboom, could be a combination of the words fabulous, referencing her snooty personality, and baboon, which is another word for gorillas. She shares her new catchphrase, sweetie, with another villager,
Candi
. She originally appeared in
Animal Forest e+
as an
islander
. She was absent in other games until her return in
City Folk
.
Appearance
Violet, like her name, is a violet gorilla with a pink-colored muzzle and paws, red lipstick, and has blue bracelets on her head, arms, and feet. She has two small eyes with one eye lash and a unibrow with two lines sticking out. In City Folk, Violet initially wears a Misty Shirt. She wears a Red Islander Shirt in Animal Forest e+. She also appears similar to Jane's appearance in Animal Crossing.
Personality
Below is a brief description of the snooty personality. For more information, click here.
Violet is a snooty villager. Therefore, she can be very unkind, and possibly quite difficult to befriend. However, once following her stubborn and arrogant ways, she might befriend you quite quickly. She doesn't get along too well with most others, but seems to be able to work with cranky villagers and fellow snooty villagers.
House
In
Animal Forest e+
, Violet has the same piece of furniture as
Elina
, a red sofa. The red sofa is the only piece of furniture in her house.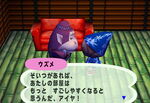 In City Folk, Violet's house is very old fashioned, Violet's main choice of furniture in her house is the Classic Series, including a Classic Bed and an Classic Bookcase as well as two Mega Dingloids with a Dice Stereo that plays K.K. Faire. The wallpaper is the Lattice Wall and the flooring is the Opulent Rug.
In New Leaf, Violet's house has many items out of the Exotic Series, including two Exotic End Tables, an Exotic Bed, and an Exotic Chest with an Exotic Lamp on it. She also owns two Pachira's. She also has two Cabana Screens and a Retro stereo that plays K.K. Faire. Her choice of wallpaper is an Exotic Wall and flooring is a Round Carpet. A tall Dingloid is seen in the middle of the room. Hanging on the left-hand side of the room is a Wall Flowerpot.
amiibo Card
amiibo Card

Back

#282 Violet

| | |
| --- | --- |
| Type | Gorilla |
| Star sign | Virgo |
| Birthday | 9/1 |
| Roll value | 4 |
| Hand sign | Scissors |
| Request | A homey little restaurant |
Gallery
This villager article is a stub. You can help the Animal Crossing Wiki by expanding it
.